Using a shift register to get 7 or 8 output pins from 1 PIC pin
If you would like to use In Circuit Serial Programming with a PIC uC on the Shift-1, this little cable/adapter will help. (Thanks to Joe Watson)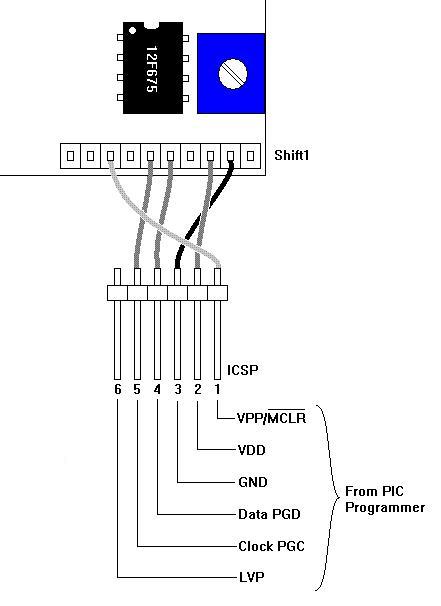 The Shift 1 is designed to directly connect to a standard 1x15 LCD panel. If you want to use it with the LCD Panel 1, you can wire them together
See also:
http://www.romanblack.com/shift1/sh1_projects.htm The shift 1 project page has lots of project ideas that you can do just by adding a PIC and loading it with the supplied code: A clock, servo tester, charge controller, tachometer, temperature guage / thermostat, drying oven controller, dual ultra capacity counters, morse code trainer, and more!
---
file: /Techref/io/lcd/Shift1.htm,

1KB,

, updated: 2013/5/6 18:34, local time: 2023/12/10 18:41,
---
©2023 These pages are served without commercial sponsorship. (No popup ads, etc...).Bandwidth abuse increases hosting cost forcing sponsorship or shutdown. This server aggressively defends against automated copying for any reason including offline viewing, duplication, etc... Please respect this requirement and DO NOT RIP THIS SITE. Questions?
<A HREF="http://massmind.org/Techref/io/lcd/Shift1.htm"> Roman Black's Shift-1 wire serial LCD driver and project board</A>
---
Did you find what you needed?
---
.