High Supply Voltage to Low(er) Voltage Coil with High Efficiency
by Richard Prosser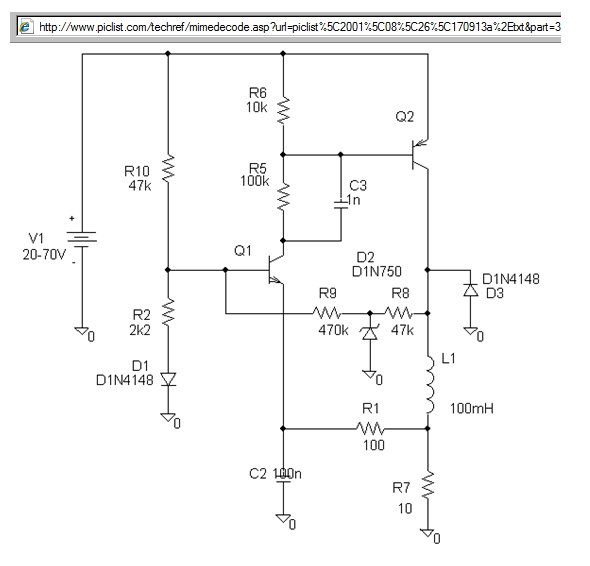 Operation: (comments by Russell McMahon)
L1 is relay R7 is relay current sense resistor

Q2 initially off so L1 top low.
Q1 base on via R10 with D2 acting as a "reference" voltage diode.

Q1 on turns Q2 on via R5.
Q2 on provides current to relay.
Relay current ramps up (I ~= V.t/L)

Relay current flows in R7 (here 10 ohms)
Voltage rising in R7 increases Q1 emitter voltage via R1 so Q1 is turned off when V_R7 rises high enough.

Q1 off turns Q2 off.
Inductor "rings" (flips voltage polarity) and current in L continues via D1 L R7 in a classic buck regulatior fashion.

Top of L1 flipping down in V pulls down path via R8 R9 and lowers Vbase of Q1 to add hysteresis to turnj on again point for Q1.
When I_L falls enough Q1again turns on anc cycle repeats.
Archive:
See also:
http://www.4qdtec.com/srd.html Really interesting little circuit for driving solenoids or relays. The schematic does not identify the components, but I believe the resistors and diodes are numbered from the top down, and the transistors are numbered from the left to the right.+
---
file: /Techref/io/relay/HVwLVcoil.htm,

2KB,

, updated: 2009/1/26 18:56, local time: 2023/6/3 18:23,
---
©2023 These pages are served without commercial sponsorship. (No popup ads, etc...).Bandwidth abuse increases hosting cost forcing sponsorship or shutdown. This server aggressively defends against automated copying for any reason including offline viewing, duplication, etc... Please respect this requirement and DO NOT RIP THIS SITE. Questions?
<A HREF="http://massmind.org/Techref/io/relay/HVwLVcoil.htm"> Relay driver, Solenoid driver, relay, solenoid, HV supply LV relay, IO</A>
---
Did you find what you needed?
---
.