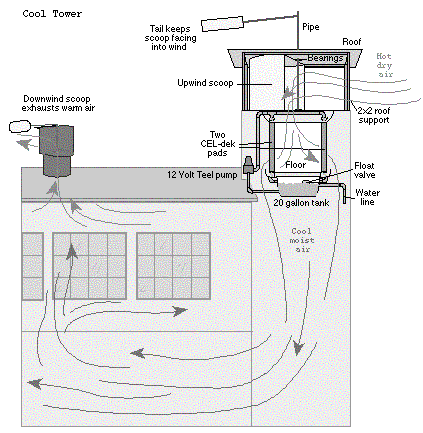 Cool towers operate on the same principle as a standard evaporative cooler. The magic starts with the way the air is moved. Special pads made of CEL-dek sit at the top of a tower with a pump recirculating water over these pads. Air passes through the special pads with little resistance and is cooled by evaporation of the water. This cool moist air is heavier than the hot dry outside air and drops down the tower and into the structure to be cooled.
In order for the cool air to flow in, hot air must be exhausted from the structure. Open windows exhaust this air with conventional evaporative coolers. If the wind blows hard against the side of the house with the open windows, the cool tower air flow will be reversed: no cooling. A large solar chimney can be used to exhaust air from the structure, which eliminates constantly watching the wind and opening the appropriate windows on the lee side. Downwind scoops are another alternative.
Evaporating water is what creates the cooling and makes evaporative coolers and cool towers work. Rain water is the perfect source for the water used in cool towers because it does not have dissolved salts or minerals. Well water can contain dissolved minerals. As the water evaporates from the pads, whatever minerals it contains are left behind. This buildup will eventually clog the pads and block air flow.
Approximately 1000 BTUs of cooling is created per one pound of water evaporated. On a hot summer day with low humidity you can expect to use 50-100 gallons of water. The most we have used in one day is about 60 gallons to cool the entire house. When we only cool parts of the house ("zone cooling"), we reduce this by 50-75%.
Custom Cool Tower & Solar Design, Bill Cunningham
See also:
Questions:
---
file: /Techref/other/cooltower.htm,

2KB,

, updated: 2010/4/28 15:13, local time: 2023/9/30 16:51,
---
©2023 These pages are served without commercial sponsorship. (No popup ads, etc...).Bandwidth abuse increases hosting cost forcing sponsorship or shutdown. This server aggressively defends against automated copying for any reason including offline viewing, duplication, etc... Please respect this requirement and DO NOT RIP THIS SITE. Questions?
<A HREF="http://massmind.org/Techref/other/cooltower.htm"> Cooling Tower</A>
---
Did you find what you needed?
---
.