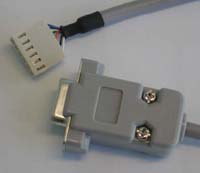 Converts between true RS232 levels (+/- 12 volts) and TTL (0 to 5 volts) or low voltage (0 to 3.3 volts) signals to allow communications with embedded products or devices such as microcontrollers (e.g. BASIC STAMP), Sony/Panasonic computer monitors, many routers, dvd players, GPS units, etc... The very hardy case, connectors and cables are ideal for industrial settings and the cost rivals hobby kits in D.I.Y. use.

This version comes pre-wired for connection to a SONY monitor via an ECS port.

wire size: AWG 30.
connector2: Molex KK.
connector1: DB9 Female.
conductors: 6 (4 used).
For more information, see the
WebPage
.
level: easy.
Price breaks: @10 = $28.
user @3.235.60.197, your shopping cart is empty.
James Newton's MassMind.org offers Kits, Books, Gadgets, Stepper Drivers, Services, and these Cables: