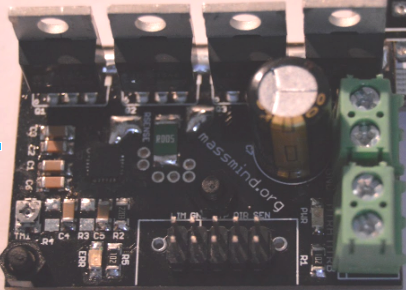 END OF LIFE: This product is no longer available.

Low cost, high quality 1HP motor driver for brushed DC motors, ideal for use in closed loop servo systems.

- Drive DC motors up to 40 V and 18 A (720 Watts, 0.97 HP) continuous operation.

- Onboard current limit, or active current control via analog or PWM signal.

- Tough IRFB7546 MOSFETs with DRV8701 driver protection. Reliable operation, hard to damage.

It is ideal for adapting CNC machines such as routers, mills and 3D printers to Servo operation with low cost DC motors in combination with a PID controller and position encoder. It could also be used as the power stage of a mobile robot, or for DC-AC inverters, and for driving Peltier modules.

For more information, see the
WebPage
.
level: easy.
You may also be interested in:
416020 Cable to PID Controller:
416045 Heatsink/FAN for cooling:
416079 PID Servo Controller:
user @3.235.60.197, your shopping cart is empty.
James Newton's MassMind.org offers Kits, Books, Gadgets, Cables, Stepper Drivers, Services, and these :