With about 20 logic families now extant, some comments are in order about which to use for teaching lab excercises and projects. You are aware, I sincerely hope, that Morse Teaching Center policy is to simplify ordering and to lessen confusion among TAs and students by insisting on close adherence to a set of Recommended Parts. To be sure, such a list will never be complete, so we are willing to expand it as your needs evolve, but the process should be governed by informed choice. We don't want our lab activities to become historic restoration projects.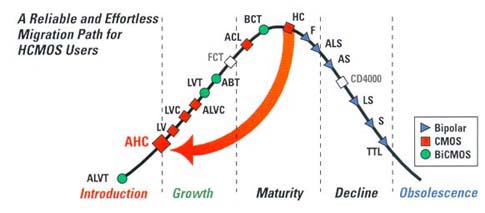 This first figure comes from a Texas Instruments promotional brochure but is a convenient way of showing most (not all) logic families and where they fit generationally. The original TTL family (e.g. 7400, 7493) had its heyday 20 years ago and is thoroughly obsolete. One of its prominent successors, the 74ALSxxx family, is still quite current and readily available.
But with CMOS becoming the hugely dominant force in logic integration, this is what we should expose students to. The best choice for general logic experiments and design is the 74HCxxx family. So the modern 74HC76 will be a supply-voltage (+5V) and pin-compatible dual flip-flop like the old 7476. For those interested in more details, the electrical characteristics of the major families are in Table 9.1 (pictured below) from Horowitz & Hill "The Art of Electronics," with much additional information in the rest of chapt. 9
Not all logic functions you might will be available in the modern HC and HCT families, especially when it comes to specialized interface functions like display drivers. In those cases we need to resort to ALS or even LS. But always please consider if redesign can bring your logic needs into the HC family. When a design has to mix logic families, some care may be indicated as per the interconnection guidelines in Horowitz & Hill Table 9.2. (pictured below)
Lou Berman and I are ready to work with you on clarifying any particulars of logic IC (and other component) choices, to bring them into harmony with, and constructively evolve, our " Recommended Parts" library.